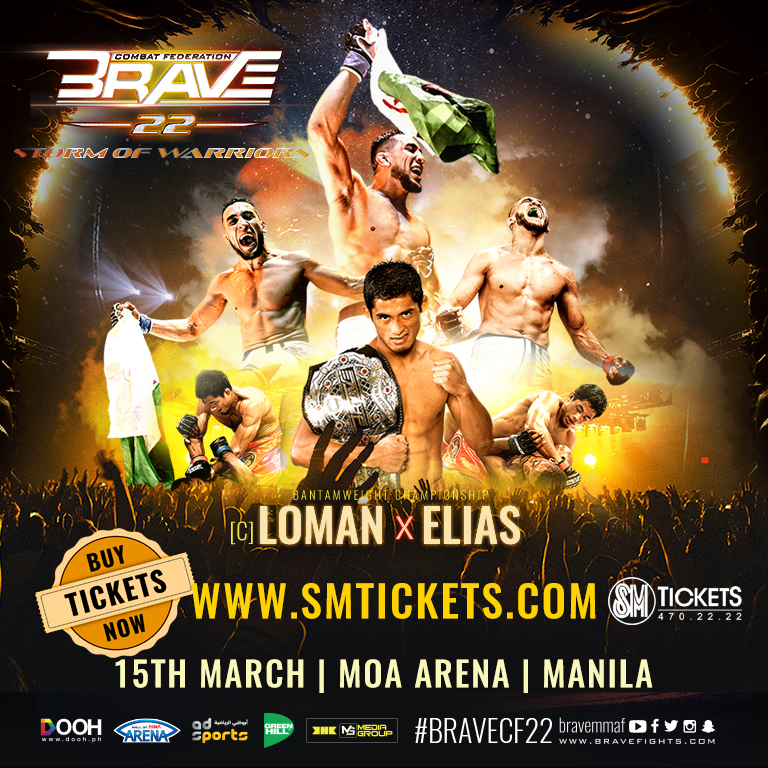 For the last two years, Brave Combat Federation has looked to change the landscape of mixed martial arts, with a truly global vision of including all corners of the planet under the same roof. Currently the biggest combat sports property in the Middle East, Brave lands for the first time in the Philippines, on March 15th, as Brave 22 promises fireworks for sports fans in the country and those around the world.
Under the patronage of His Highness Sheikh Khalid bin Hamad Al Khalifa, the organization has taken big steps in a new sport. Compared to the likes of football and basketball, MMA has only been around since the '90s, and it has already evolved and changed in many ways since its inception, adapting its rules to gain a wider audience – which is one of the changes that has made MMA the fastest-growing sport in the world.
Aside from adapting its rules, MMA has also focused on marketable athletes, and most promotions choose to invest in fighters with certain types of personalities. Brave Combat Federation, on the other hand, takes pride in giving a truly global platform to athletes because of their in-cage abilities and fighting qualities, regardless of how they come across to the media.
This has allowed Brave to set an example in its two-year run as the fastest-growing promotion in the fastest-growing sport. No other organization has traveled so extensively as Brave has in their first two years of operations. Since September of 2016, the company has visited 14 countries: Bahrain, Brazil, the United Arab Emirates, India, Kazakhstan, Mexico, Jordan, Indonesia, Northern Ireland, Morocco, Colombia, Pakistan, South Africa, and Saudi Arabia.
Aside from this, Brave has given opportunities to fighters from more than 40 countries to showcase their abilities to more than 80 countries around the world with a reach close to 800 million homes. The promotion insists on blending in local talent with international fighters whenever it lands on a new country, making sure regional fighters have a chance to shine in the biggest of stages and leaving a lasting legacy to the sport in the new areas reached.
Set for a groundbreaking event in the iconic Mall of Asia Arena, in Manila, Philippines, Brave Combat Federation will once again use its formula of bringing the biggest international stars on its roster to compete with Philippines' finest. In the main event of Brave 22, the organization's longest-reigning champion, Stephen Loman, will go for an unprecedented third defense of his belt against former Featherweight titleholder Elias Boudegzdame, from Algeria, by way of Montpellier, France.
Both men have the opportunity to make history in front of Brave's loyal Filipino fanbase, as Boudegzdame could become the first fighter to hold two belts in two different weight classes and Loman could extend his legacy with a third title defense. A win over "Smile" could very well cement the Bantamweight champion as a Filipino sports legend, after conquering the rest of the world, with appearances in Bahrain and Northern Ireland as well as wins over tough Brazilian and Irish fighters.
—————
For tickets visit the nearest SM Ticketing area or visit the link below:
hashtags:
#BraveCF22 #StephenLoman #MixedMartialArts #BraveMMAFPh #PinoySports #Mplifyph