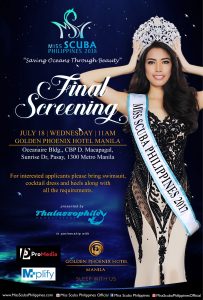 Calling all lovely Filipinas out there! Here is your chance to show your love for our Oceans. Be the next Miss Scuba Philippines 2018. Cool prizes and privileges awaits you!
FINAL SCREENING!!!!!!!
July 18 /Wednesday/ 11am
Golden Phoenix Hotel Manila
Oceanaire Bldg., CBP D. Macapagal,, Sunrise Dr, Pasay, 1300 Metro Manila
Interested applicants please bring swimsuit, cocktail dress and heels along with all the requirements.
Application Form Link: https://drive.google.com/open…
Kindly submit your application forms to our official email address: missscubaphilippinesofficial@gmail.com
This swimwear is sponsored by CANi Swim (Sunkissed Shop)
HMUA: Ram Pagadora of Team Liza D. Querubin Make Up Artistry
#MSP2018
#SavingOceansThroughBeauty
#MissScubaPhilippines2018
#MplifyPh