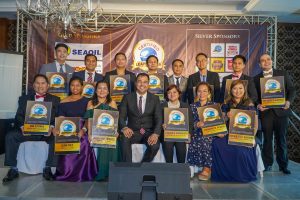 Congratulations to Fellow Certified Leapreneur Awardees of our Founder and Managing Director, Miguel "Migs" De La Rosa".
Thank you to Master Leapreneur Jerry Ilao and to the 6,000 plus strong online community members who took a leap from being an employee to become entrepreneur.
More power to everyone and your respective businesses.
MPLIFY is grateful to be part of a business community that empowers others become better and support growth of it's business.
We're so thankful for the overwhelming and unwavering support of our my media friends and friends from the blogging community. Rest assured that you are always in our heart and your support will always be remembered as we grow bigger and achieve more humble achievements. We're blessed and humbled by your support.
To God be the glory and God bless us all.
Thank you to SMNI News Channel, Chinoy TV, Manila Standard, Gadgets Magazine, Pilipino Mirror, Malaya / Business Insight, Freeman, Pilipino Star Ngayon, Remate, Womans Journal Magazine and People's Journal Group, Chinese Journal Today and online influencers. Our heart is full of gratefulness, again, in behalf of our Leapreneur Business Community, Maraming Salamat po!
Thank you to our clients and marketing friends for your support at yesterday's event, Dermcare, Bioessence, Great Image Photo Studio and Rainbow Dream Spa.
-Miguel "Migz" De La Rosa, MplifyPh
#Leapreneur
#CertifiedLeapreneurAwards
#MplifyPh