The road to REC 2017! The Restaurant Engagement Conference is coming this August 12, 2017, at the Marco Polo Hotel, Ortigas. Presented by MPLIFY.  RECREATE brands for today's new trends, EMPOWER local Crafts and Businesses, and CAPTURE the right market.
Restaurant Engagement Conference Overview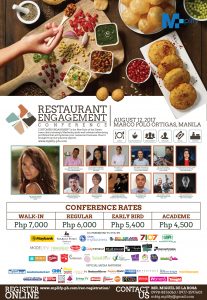 Find today's new trends, empower local businesses, and capture the right market. Strengthen your online visibility and maximize your business potential.
We at Mplify are so grateful to have an overwhelming support from marketing and media partners for the upcoming Restaurant Engagement Conference this August 12, 2017.
To all confirmed sponsors and sponsorship pledges, A BIG Thank you for the trust and confidence in our event to deliver results for your brands.
Thank you for the kind words and encouragement to make this event a Success!
Register online at www.mplify-ph.com/rec-registration, and read more on the preview of the topics for discussion.
For Partnership and Sponsorship inquiries, you may contact 0977-3597602 / 0998-8876063.